Introduction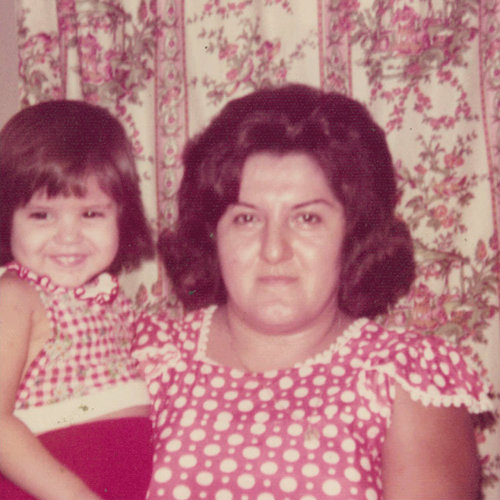 In 1973, Dr. Gloria Rodriguez founded AVANCE to serve Latino families in San Antonio, Texas. When services began on the city's west side, Dr. Rodriguez and her small team were using a model being piloted in Dallas at the time called the AVANCE Neighborhood Intervention Program, which included a Mother-Infant Program and a Tutor Program. The Mother-Infant Program included two years of weekly two-hour parenting sessions and twice-monthly home visits followed by a third-year Tutoring Program that consisted of a supervised elementary school student working with a participating one- to three-year-old on age-appropriate school readiness skills.
When seed funding ended in 1976, AVANCE secured a grant through the State that would allow programming in San Antonio to continue. However, this new funding came with stipulations that required Dr. Rodriguez to make changes to the program to maintain compliance without sacrificing program goals or effectiveness.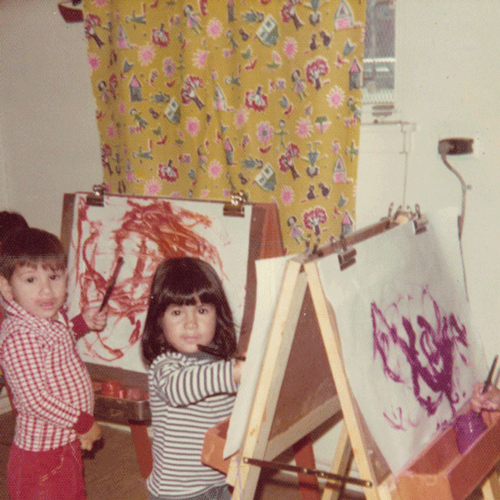 Evolution
While the transition in funding made changes necessary, it also offered AVANCE the opportunity to improve the program. Having grown up in the neighborhood where AVANCE originated, Dr. Rodriguez was deeply familiar with the needs of local families and used that knowledge to modify the curriculum to better serve the community.
One of the first significant changes was eliminating the tutoring program, which did not receive funding. This change made it necessary to improve the quality of care children received during the Mother-Infant Program, including a shift from supervised play toward a focus on early childhood development. The Mother-Infant Program was also shortened from two years to one, increasing sessions from two to three hours and adding a new Community Engagement component to familiarize parents with local resources and services.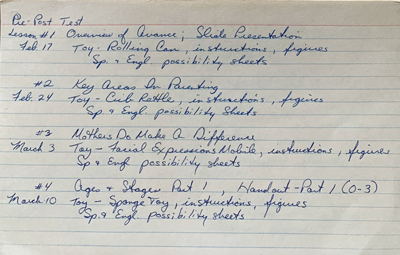 When programming began in San Antonio, the curriculum was handwritten on notecards that were kept safe and in order in a recipe card box. Later, lessons were typed directly onto notecards with a typewriter making reproduction only slightly more manageable. Over time though, as the organization grew and technology progressed, the curriculum became more robust and more efficient reproduction streamlined expansion efforts.
This first round of changes would become an ongoing series of updates to the curriculum. Dr. Rodriguez and her team, many of whom lived in the neighborhoods AVANCE served, continued to draw on their lived experience and feedback from parents to improve the curriculum, adding and revising topics, lessons, and activities to meet families' needs.
What began as the Mother-Infant Program evolved into the core of AVANCE, the Parent-Child Education Program (PCEP). The PCEP is now a nine-month program that consists of weekly three-hour sessions paired with monthly home visits. Each weekly session includes an hour of parenting instruction, an hour of toymaking lessons, and an hour of community engagement. You can read about our toymaking lessons here. While parents attend sessions, their young children, from newborns to three years old, are cared for in an enriched age- and developmentally-appropriate environment that nurtures learning. 
Innovation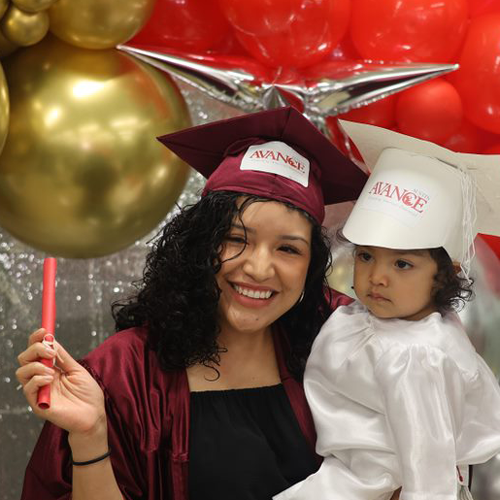 The AVANCE PCEP continues evolving today. AVANCE educators from across the network of licensees and chapter and regional offices use innovative tools to communicate and collaborate in a continuous feedback loop that drives program refinements by bringing various perspectives about what aspects of the program work well and what could be improved. Family feedback is invaluable in this process. AVANCE also has an ongoing process to review the science behind the curriculum to make sure it utilizes the most accurate and up-to-date research and evidence.
In one of the most recent additions, AVANCE worked with a team, including the Harvard Center on the Developing Child, to develop content focused on reducing sources of toxic stress. AVANCE has even redesigned its Family Building Communities (FBC) program. Created as a second-year follow-up for graduates of PCEP, the FBC program builds on PCEP and focuses on developing leadership skills and supporting parents as they learn to be advocates for themselves, their families, and their communities.
Despite half a century of changes, revisions, and updates to the AVANCE PCEP, what has always remained constant is the foundational belief that parents are their child's first teachers and that the home is the first classroom. And this same belief continues to guide AVANCE as it moves into the next 50 years of supporting families on their educational journeys.