For nearly 50 years, AVANCE has been creating pathways to economic mobility through innovative, culturally responsive two-generation (2Gen) programming. Our ultimate goal is equitable access to the resources and opportunities that allow children, caregivers, and child care providers to reach their fullest potential. This is why our unique approach and programming are designed to ensure school-readiness for young children and to create opportunities for parents and providers to build social and economic capital.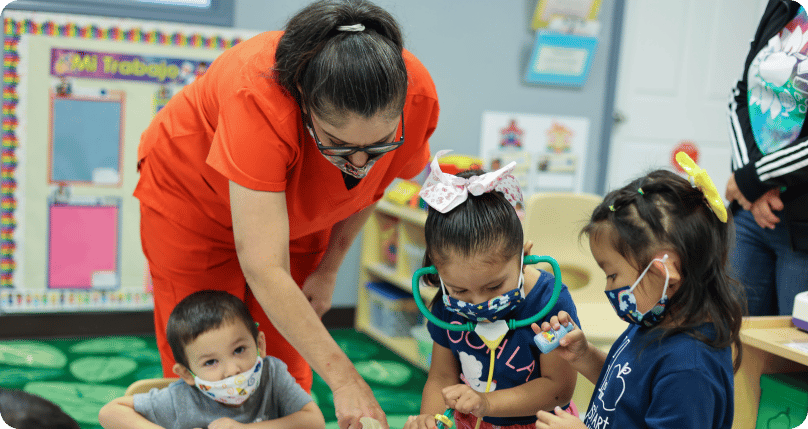 AVANCE Parent-Child Education Program (PCEP)
The Parent-Child Education Program (PCEP) is the core foundational program of AVANCE that teaches parents how to become their child's first and most important teacher and how to ensure that the home is the first classroom.
Head Start & Early Head Start Programs
AVANCE provides, high quality learning environments to ensure children enter school ready. Head Start supports the growth and development of children ages 3-5 years while Early Head Start targets expectant mothers and children ages six weeks to 3 years.
Quality Child Care Matters (QCCM)
The AVANCE Quality Child Care Matters (QCCM) program supports and guides home-based child care providers to increase the quality of care for children and to honor parent choice by ensuring they have access to high-quality family child care.
Child Care Business Coaching
Through the Child Care Business Coaching program a child care provider and their highly qualified AVANCE business coach can work toward improving daily operations with strategies to increase revenue, decrease costs, and mitigate future risks.
Families Building Communities (FBC)
The Families Building Communities (FBC) program empowers parents and caregivers to be community leaders and advocates through personal development and leadership training. The FBC program also provides children with tools to grow.
The AVANCE Shared Services Alliance is a partnership of In-Home Child Care Educators working together for support services and access to tools and resources that will help each in-home child care business thrive.
In partnership with local workforce boards and community colleges, AVANCE to College combines PCEP with exposure to the possibilities and opportunities offered by postsecondary education and workforce development.